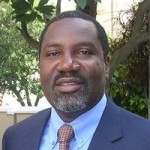 "African Pastors' Conferences is absolutely critical to the spreading of the Gospel and to the health  of churches throughout southern Africa. I am excited to have John Divito joining us as we equip pastors to rightly handle the word of truth."
Conrad Mbewe
Pastor of Kabwata Baptist Church in Lusaka, Zambia,
and a Director of African Pastors' Conferences
African Pastors' Conferences is the result of a meeting between Erroll Hulse (an Elder at Leeds Reformed Baptist Church in England) and Irving Steggles (Pastor at Birchleigh Baptist Church in South Africa). Together, they recognized the challenge that churches face throughout southern Africa. Unequipped pastors, often with an unclear understanding of the Gospel of Jesus Christ, fail to keep a close watch on themselves and on their teaching. Convinced that a pastor "must hold firm to the trustworthy word as taught, so that he may be able to give instruction in sound doctrine and also to rebuke those who contradict it" (Titus 1:9 ESV), they committed themselves to organizing conferences that would provide Reformed teaching and books so that pastors and Bible teachers can more faithfully serve their churches and reach the lost with the Gospel.