Would you like to receive future prayer updates by e-mail? Sign-up now!
The burden of my heart continues to increase for our African brothers and sisters in Christ. Thinking through the challenges they face, it strikes me how much we in America and the Western world take for granted. Think about it this way…. Imagine being a pastor of a local church when you come across some new teaching from God's Word that you have never heard before. What would you do?
I might begin with some internet research. Depending on what I learn, I may contact a ministry focused on researching and biblically responding to questionable and false doctrine. Or I might see if any helpful books or other materials are available at a Christian bookstore. If needed, I could drive to a seminary where I could conduct additional research and even discuss my questions with evangelical scholars. As you can tell, I would have a good support system available to help assist me in faithfully shepherding my church.
Now let's consider a similar situation with a pastor in Africa. Many of them do not have reliable internet access. There are very few ministries or seminaries available to help. Christian bookstores are much less common, and even if there are books available they are often too expensive to buy. Most African pastors have not even been exposed to biblical expository preaching or learned how to rightly handle the word of truth. With unequipped pastors, how healthy do you think their churches are, and how likely are they to reach the lost by faithfully proclaiming the gospel of Jesus Christ?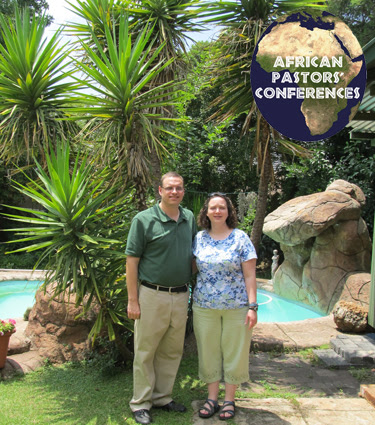 This is why African Pastors' Conferences is such a critical ministry! And by serving as their Conference Manager, I will oversee more than 40 conferences a year throughout southern Africa. From working with local organizers in carrying out conferences to serving as one of the speakers training pastors, I am excited to see how God will use my ministry in Africa for His glory.
With this in mind, since African Pastors' Conferences is already busy in carrying out conferences, our goal is to move to South Africa by the end of November. But this means that we have a lot to get done in the next several months! We need to raise awareness and support, apply for passports and visas, sell most of the things we own, go to pre-field orientation, along with many other aspects of preparation. So your regular prayers for us during this time are absolutely essential!
At the same time, my family has already felt the fruit of your prayers. We have made a lot of progress in building our monthly support team, having already reached over 30% in monthly commitments. And while we have a long way to go, we rejoice in the encouragements we have received from churches and friends.
The Lord has also blessed me with several opportunities to preach God's Word and to present on African Pastors' Conferences. Here are the next four opportunities that my family has scheduled so far this summer:
Would you please pray that Christ will bless my ministry as I open His Word and share with these churches more about His kingdom work throughout southern Africa? And if you know of any churches who would be interested in having my family visit, please let me know.
We are so grateful for you. And we look forward to seeing what God has in store for our family this summer. Thank you again for your prayers!
Because of His grace,
John Divito